One of the items I will be learning how to create at the upcoming IKINS will be bobbin lace, specifically for an Elizabethan glove.
I've wanted to make such a glove for a long time, and while I'm not one that wants to add yet another hobby of bobbin lace, well, I may as well learn how and get some made for my costuming needs.
However, I also don't want to spend lots of money on a pillow I might only use a few times. But I did get a foam pillow thing some years ago when I first took a class on bobbin lace making (at Costume College, iirc). It is still around, but... it isn't very period looking, and it is rather large and unwieldy, and it is very lightweight. It would do for another class, but... I've wanted a bobbin bolster for awhile, since I saw a friend using one at a small renfaire years ago. And I wanted to make it on the cheap if possible.
So I went looking for instructions on how to make one, most of what I turned up for the bolster required either sand, or straw, or sawdust, or other items that I would have to buy. Sand, I have that outside, but I knew I would be taking this bolster with me, and I didn't want something heavy to cart around. I could get sawdust from woodworking friends but again the weight. Straw I don't have access to. Pool noodles was an option, but the one we have is quickly turning to powder, so it won't last. So I looked some more.
I found a few email messages stating something about using a coffee can, wrap it in batting, wrap it in wool felt or heavy wool fabric, then cover it with something nice. One person mentioned using velvet for the outer cover, and that appealed to my courtly sensibilities. But I don't have a coffee can... then my husband reminded me that we do have formula cans from when the kids were babies, so that became my base. I like the idea of using the can's interior space to store my bobbins and other small supplies between uses, and it would not be heavy.
But would it work? Could I make a working bolster from the slim hints I found? Oh yes, and yes! You can see the final photo here as proof.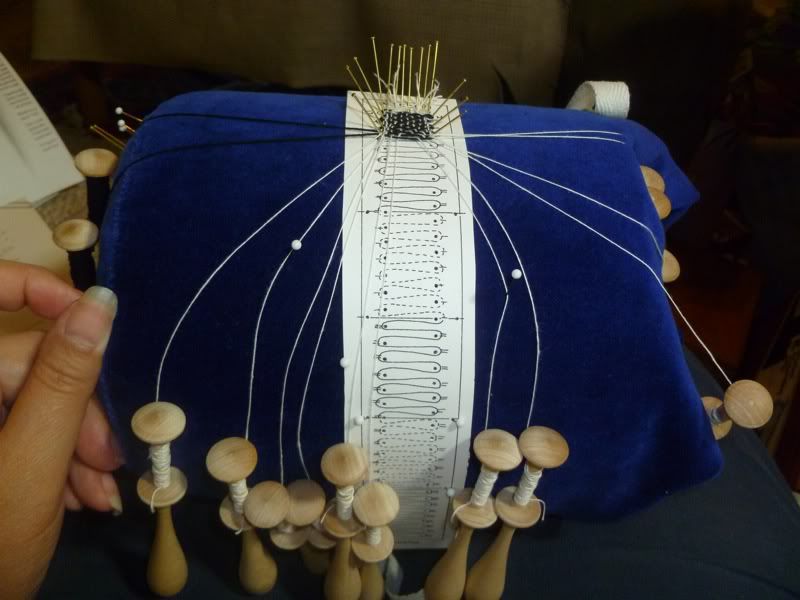 I found the materials in my sewing scrap boxes, from the cotton quilters batting (for initial loft), to the wools I used to wrap over the batting (which would hold up better for holding the pins). The green wool was a cheap wool blend that was thin, the black was wool melton (coat weight), and the cream was wool flannel that was almost as thick as the melton. Total cost $0.00! That's right, it cost me nothing since everything came from scraps... ok, there was a cost long ago, but only for items I've already made. The only other cost will be the materials for the drawstring cord; and my time.
I took photos of most of the process, which took me about a week working a few minutes here and there between other chores. It could be done in a day or two if you focused on making it. And now that it is made, and it works, it looks rather nice in its blue velveteen cover. So, here is the link to my Photobucket album slideshow, which has photos with my explanations on what I did.
I hope this helps someone else who may be interested in making their own bobbin lace bolster, although you will have to get your own bobbins and thread.
[Just in case the above link to the slideshow doesn't work right, the
main album is here
.]